Kundalini Yoga Exploration
What is Kundalini Yoga?
Kundalini Yoga is also called the Yoga of Awareness as its primary objective is to awaken the full potential of human awareness in each individual being.
This style of Yoga is focused on the energy body and working more with the glands and organs instead of the muscles.
The practice of Kundalini Yoga combines several components to bring balance to body, mind, and soul:
Asana (physical movement, postures),
Pranayama (breathing, breathwork),
Meditation,
Mudras (hand postures),
Eye-Focus,
Body Locks, and
Mantras (chanting)
My experience with Kundalini Yoga
Kundalini Yoga to me is a physical workout, as well as part of my spiritual practice and self discovery journey. Kundalini Yoga
helps strengthen my self-awareness.
encourages me to be my own guide and find my own individual answers.
allows me to build a sense of trust from within.
I see it as a playground and a training camp on the mat for how to deal with my emotions in everyday challenges.
I also find it way easier to meditate after a juicy Kundalini Yoga session, as my physical and mental body are well prepared to embrace stillness.
With Kundalini Yoga I experience the energies in my body and the subtle energies around me much deeper than in any other style of Yoga.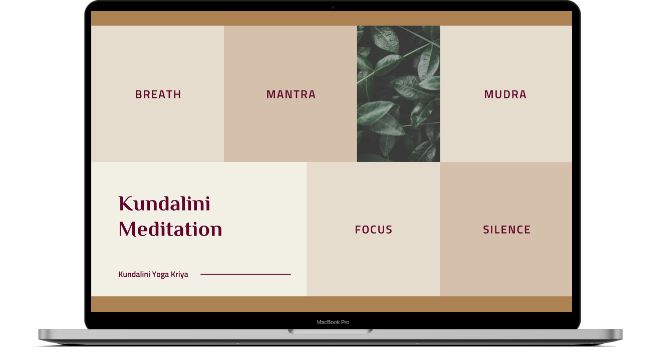 Kundalini Yoga Basics Self-Study Course
If you want to learn more about the basics of Kundalini Yoga and the theory behind it, I invite you to join my Kundalini Yoga Basics Self-Study Course.
Kundalini Yoga
I'd love for you to experience this wonderful practice of Kundalini Yoga. I would be so grateful and honored to be your guide on the journey to sense and shift the energies within and around you.
What is most important to me is that you feel comfortable on that journey!
I love to work with complete beginners as well as experienced Yogis. I will adapt the class to your individual needs!
If you've never done Kundalini Yoga or any other Yoga Style before – Don't worry! Let's start the journey together. It's not about how flexible you are or if you can do a headstand. It's about showing up and embracing the present moment.
Do what you can and feel good about that!
We are not here to prove, we are here to improve!
This is the Mantra that my teacher encouraged me to base my own practice on.
How do the Private Yoga Sessions work?
Booking
The link below will take you to my calendar where you can book your session.
You'll then receive an eMail from me with further details for our session as well as the invoice which I ask you to pay before our time together.
Our Private Kundalini Yoga Session
We'll meet on Zoom. Here we can hear and see each other via video conference. I'll send you instructions on how to set up the program in advance.
In our first lesson, we'll have a chat (approx. 10 minutes) where we can get to know each other and discuss important things about your Yoga class. If we already know each other, we will use the time for the actual Yoga practice.
And then…?
… let's do Yoga together! I keep an eye on the time so that you can relax completely.
You'll receive a Kriya sheet & audio timer to practice on your own as often as you like.
Kundalini Yoga
Exploration
Private Online Session
1:1 session of Kundalini Yoga
Kriya overview sheet & audio timer to practice on your own
Voice message or eMail support for 1 week following our call (you'll receive an answer within 24 hours)
Session Duration: 90 minutes
This is how I teach
I adapt the exercises to your individual needs. Let's not forget one thing:
We are all different!
Your body – your individual yoga practice! I'll show you how you too can enjoy Yoga and find your own implementation. I will provide you with alternatives to simplify or intensify the exercises. We adapt the poses and exercises to you, not the other way around. Sometimes it's necessary to regress to progress.
Frequently Asked Questions
Do I need to be an experienced Yogi?
No! I adapt the Yoga class to you and your individual body. It is particularly important to me that you can feel the benefits of a regular Yoga practice and see how good it is for you.
Which props do I need for the yoga class?
You need a Yoga mat and enough space around it so that you can comfortably stretch your arms to the sides. A pillow or blanket on which you can sit a little higher is sufficient for the beginning. If you decide to practice Yoga regularly, I also recommend a Yoga cushion to sit on and 2 Yoga blocks.
What technical requirements do I need?
You need a stable internet connection and a device with a camera, (built-in) microphone and speaker (bluetooth headphones come in really handy). This can be a desktop computer, laptop, or tablet. In my experience the screen of mobile phones is too small.
What training did you do?